Healing Touch
Healing Touch is a compassionate energy therapy offered by practitioners using a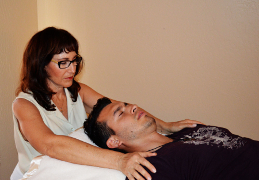 heart-centered and intentional approach to restore harmony and balance in the human energy system, thus creating an optimal environment for self-healing. Hospitals who practice integrative medicine such as Stanford University Medical Center and Mayo Clinic Health System, as well as hospices and wellness centers offer Healing Touch to their patients in conjunction with traditional therapies to facilitate healing for the mind, body, and spirit.
Healing Touch was founded by Janet Mentgen, a holistic nurse, RN in 1989 and is now an international program taught in a variety of settings and is endorsed by the American Holistic Nurses Association (AHNA) and the Canadian Holistic Nurses Association (CHNA).
Healing Touch Certified Practitioners complete a rigorous training program and abide by a professional Scope of Practice and Code of Ethics. Healing Touch was the first energy therapy to offer a Certification program for its practitioners.
How does Energy Healing Work?
Energy therapies focus on removing energy congestion that forms in your energy fields (aura) and energy centers (chakras)through opening, connecting and balancing the human energy system using a gentle, light or near-body touch.Healing Touch re-establishes healthy energy flow from the energy field to the physical body. Once these imbalances and disturbances are cleared, the energy channels resume their task of integrating body, mind, and soul to restore health and/or promote healing. It may also help prevent future issues by restoring balance to energy field disturbances, which could later result in illness if left unbalanced.
The Healing Touch session is administered with you lying on a massage table, face up, with your clothes on. With your permission, Geri Lynn will use her hands to assess your bio-field using either off body touch (near but no direct contact) or a gentle, (still) touch over various areas of the body. I will choose the most appropriate Healing Touch methods for you depending on your needs, your current health status and the results of your energetic assessment. I will then continue with that method for approximately 50 minutes. Most clients experience a deep sense of calm and relaxation during the session. Towards the end of the session, you may experience the feelings of being nurtured, balanced, and energized. It is those feelings that can gently and significantly impact your health and life, longer term.
What are the Benefits of Healing Touch?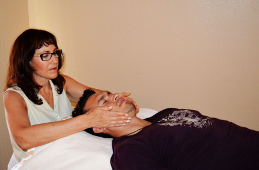 Healing Touch research has been conducted in a wide variety of settings and suggests that it greatly benefits those who receive it in the following ways:
Pain reduction and management
Decreases anxiety, tension and stress by eliciting the relaxation response
Relieves depression
Provides support during chemotherapy and other cancer treatments
Strengthens the endocrine and immune system
Wellness and prevention
Creates a sense of well-being
Reduces effects of trauma and chronic pain
Accelerates postoperative recovery and improves mobility after surgery
Deepens spiritual connection and promotes personal growth
Supports the dying process
Make an appointment today to experience how Healing Touch can make a difference for you!